Three Tips to add a divine touch to your Puja rooms
The Puja room should be in the northeast corner of the house, and one should face the north or east direction while worshiping. Mandirs can be made of pure white marble, and white mother of pearl inlay work can bright in the form of various motifs. Carving in the white marble itself would also add to opulence and royalty. Backlight white onyx is also an absorbing material which can be used to make the Puja room more dramatic.
Colors to use for your Puja rooms
Light and pastel colors are best to apply for a Puja room. Pristine and pure white does wonder. Yellows also add to brightness and energy to space.
Handling small Puja spaces
A separate Puja section should ideally be considered in every home and should have a shutter. In a small area, Puja space can be created in a niche but should have a screen as per Vastu.also light colors like a while, light silver, pastels make space look larger in scale. If space has natural sunlight it would make it even more ideal and energetic as natural sources of energy plays wonders in places of worship where the lord the creator of nature resides.
For people who live in smaller apartments, the best place to accommodate the Puja room is within the kitchen. Since the kitchen is always kept clean, create a space at one corner of the kitchen.
Keep your Puja spaces de-cluttered
It is essential for a Puja room to be kept clean to create positive and healthy vibes. An essential way to keep the room clean is to keep it clutter free. Incense sticks and tea light burners also add to positivity.
Co-Authored with Sheena Chhabria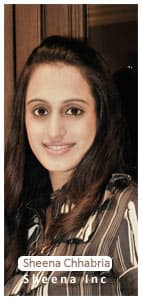 Sheena having graduated and completed her masters in management realized her true passion lied on the creative bent.
Sheena completed her interior designing from Rachna Sansad School of Interior Design, travelers post which she worked with an architect to fine tune her interior and furniture design skills.
A traveler's heart and a creative eye lead her to give birth to INC, a design firm specializing in interiors and furniture's.
Related