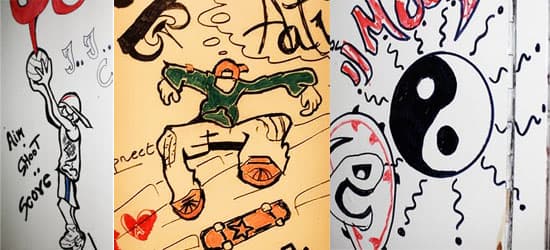 So let's quickly dive into Sarthak's world and see how he did it. Being the center of attraction for us at least, we are not surprised that his bedroom is located in the heart of his house. To take a count of the things in his room, were the usual Wardrobe, Single Bed, Dressing table with a shell frame mirror, Study Table, Bookshelf, Music Table and an attached Toilet. Sarthak's room is a clear reflection of his interests, hobbies, and passion.
The left wall of his room is painted in black and green with the design of his favorite American Rock band Linkin Park. He has left little blank spaces in his wall canvas as to update significant milestones achieved by his favorite band.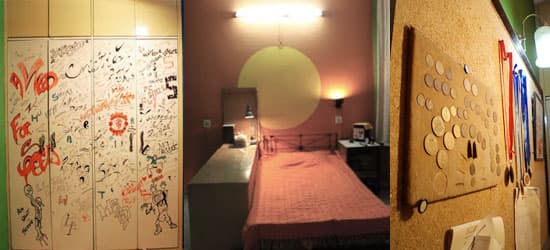 Another significant passion of Sarthak is Football as he has created a graffiti on his wardrobe shutter portraying all the postures, verbs and nouns related to the sport and his favorite team the Manchester United. It's a pure plain white oil painted 7' high shutters with small handles on it. But a look towards the side will hold your attention for a while. He has used a combination of mess words, cliparts, features, nouns, signatures and symbols. It's like a challenging maze which teases you. He has a shell decorated mirror placed right across the wardrobe graffiti so that he can spot it from whichever direction he wants. The graffiti and wall paint explains his hobbies of music and sports but also reveals his nature of being challenging and having a fun attitude. Walls are played with multiple color combinations.

The back wall against his bed has a design of a large yellow circle on an orange background. It depicts the dawn of a bright sunny day for him. On the left wall, he has placed a robust soft board to showcase his passion for collecting old coins and his achievements. This boy likes to flaunt what he's got.
In totality, the room is very vibrant with a mélange of bright colors smearing the walls. He has created neat spaces for his different worlds of music, football, passion, and achievements with the overall essence of – today would be a brighter day with the sun dawning right behind him. We give him a thumbs up for being true to himself and creating something unique and creative.
Related