How Blue is My Ocean by Bipasha Sen Gupta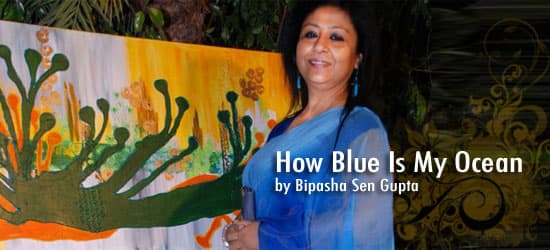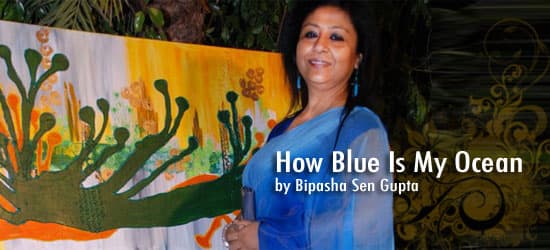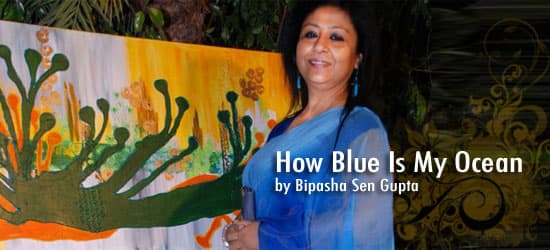 'How blue is my ocean?' by Bipasha Sen Gupta is a collection of around 30 paintings which showcases the vibrancy of 'Underwater elements' & 'Life of coral reefs.'
During her work tenure, Bipasha got noticed by the Government of Maldives for her artistic aptitude. The Maldives, a country, which if not for the beautiful Coral reef and the engulfing sea life, would be submerged under water. The government of Maldives wanted to evangelize the message of 'Save Corals' amongst its citizens and the world. So they found an Artist in India whose paintings they believed conveyed the much needed 'eco-survival' message. Thus, with the collaboration of Maldives authorities, Bipasha conducted her painting Exhibition in Delhi. Now she is taking her work to 'Maldives' also in a few months.
Mr. Thoyyib Mohamed, the honorable Minister for State for Tourism Maldives, inaugurated the art preview titled "How Blue is my Ocean?" by Bipasha Sen Gupta on 18th February 2011 at the Olive Beach, Hotel Diplomat.

What follows is an interesting chat with Bipasha, the multifaceted personality and a peek at her enchanted paintings.
H&D: Why 'A Painter'?
BSG: That's my passion, …and in this full world I had to prove people and myself my existence through and by my love.
H&D: What inspired you to make a painting collection called 'How Blue is my ocean'?
BSG: My underwater life…And my deep interest in unshaped and undefined elements in the depth of the ocean.
H&D: How many Canvas you have made for your first collection?
BSG: 30
H&D: Express your life in terms of a painting.
BSG: Am an Aquarian, where else I will go other than water.
H&D: Which painting of yours, you call your best picture?
BSG: I haven't made my masterpiece yet.
H&D: What is the idea behind your 'bold colors selection– used in your paintings'?
BSG: All paintings of mine are incomplete as I need to do so much on one canvas.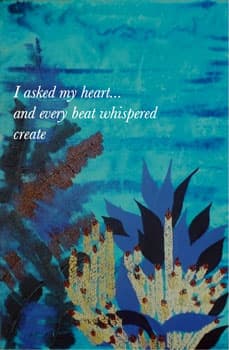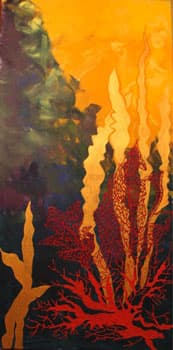 In Bipasha Sen Gupta's own words:
"My paintings reflect the contemporary style of Art. There is a visual harmony on the color combinations and compositional sensibilities. Each canvas offers a journey of colors seeking freedom of imagination displaying many meaningful symbols on the merging edges.
Art is an expression of emotions and feelings that do not follow any reasoning. There is always a search to express the exact sentiment that might go beyond the rational and defined grammar. I like to use the abstract vocabulary I have built up.  Meanwhile, I want to use stated overt imagery as well, so that a series of paintings may contain both elements to a varying degree, even merging them as on a continuum.  It is a passionate journey with acrylic and mixed media thrown on the canvas, experimenting with colors shapes and textures.
As my work evolves, I am seeking to deal with strong universal and environmental themes, the present depicting corals and underwater wonders and treasures which the ocean stores within itself and weaving into them the role of imaginations and dreams.  Uniform convergence of colors, fantasies, thoughts, and emotions, whereby, the palette creates a story!
Varnasattva – the easel of life – is a Sanskrit word meaning the colors of truth and has a global message and a thought for tomorrow.  My paintings are an involvement, a journey, and an encounter.   This is an imaginative space we can enter at will and leave at leisure.  I am a muralist and customize my artwork according to requirements."
(Minakshi is an inquisitive mind with a penchant for meeting people and loves all things artistic)