Tell your kids a "Think Cutieful" story with wall stickers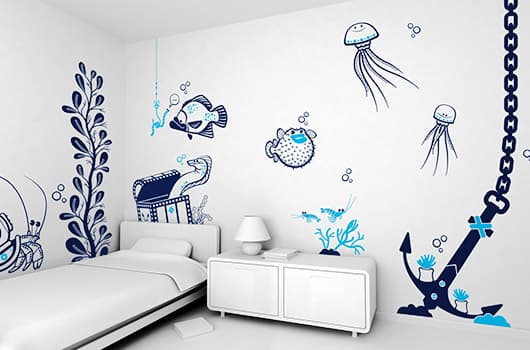 The objective of "Think Cutieful" is an easy and aesthetic solution to room decor, a mix of fantasy and reality and a story in every room, so if your little girls dream of being a princess or your youngster a footballer or if your toddler wants a cow in place, what do you do, paint, call an artist, wallpaper stickers?
Though all these are great in their ways for other areas but all are permanent with repeat patterns like a wallpaper and once done its an effort to remove them and definitely not a DIY ( Do it yourself) There exists a Simple Solution,  An easy DIY peel and stick vinyl wall stickers, appliques, decals, whatever you wish to call them, the magic created is the same.
These decals or simply put wall stickers are made in high-end vinyl which is removable and repositionable, so by the time you thought Dinos are your little boys favorite, he might have moved on pirates, you have the choice to remove and replace them with what he likes, practically the room grows with your child. These can be put on any smooth surface like walls, glass, furniture, tiles and guess what no adhesive stains or residue is left behind.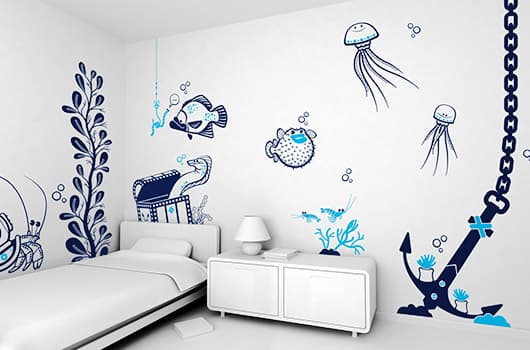 A range is available in a transparent material to put on windows which are see-through, heat resistant and steam resistant once for the bathroom, run them under water, put them in the bathtubs or basin.  Write a quote on their walls with alphabets or custom created letters personalize their space with their names, put pictures on the walls with frames and corners, glow in the dark decals and much more.
And what's more, get rid of large chalkboards and get funky looking stick-on chalk panels for your little ones scribbling or your school going "spell well" practice. Guess what, you can put these wall stickers on the refrigerator doors to make your shopping lists as well.
Most essential to remember is walls are of the most important medium of expression especially of space in a kids room which should be clutter free, minimum essential furniture with loads of stimulation via objects, characters, their particular area to dream, learn, play and have fun — integrating sensory and cognitive accents while stimulating their imagination.
So no more excuse for boring walls, eco, and child-friendly, these can transform a nursery or child room in minutes' without any glue, paints, scissors, nails, no mess and that too without breaking the bank. The wall Stickers pack price ranges from Rs 500.00 to Rs.5000.00.
All you need here is to peel, stick and say wow!!