The Art of Organic Terrace Farming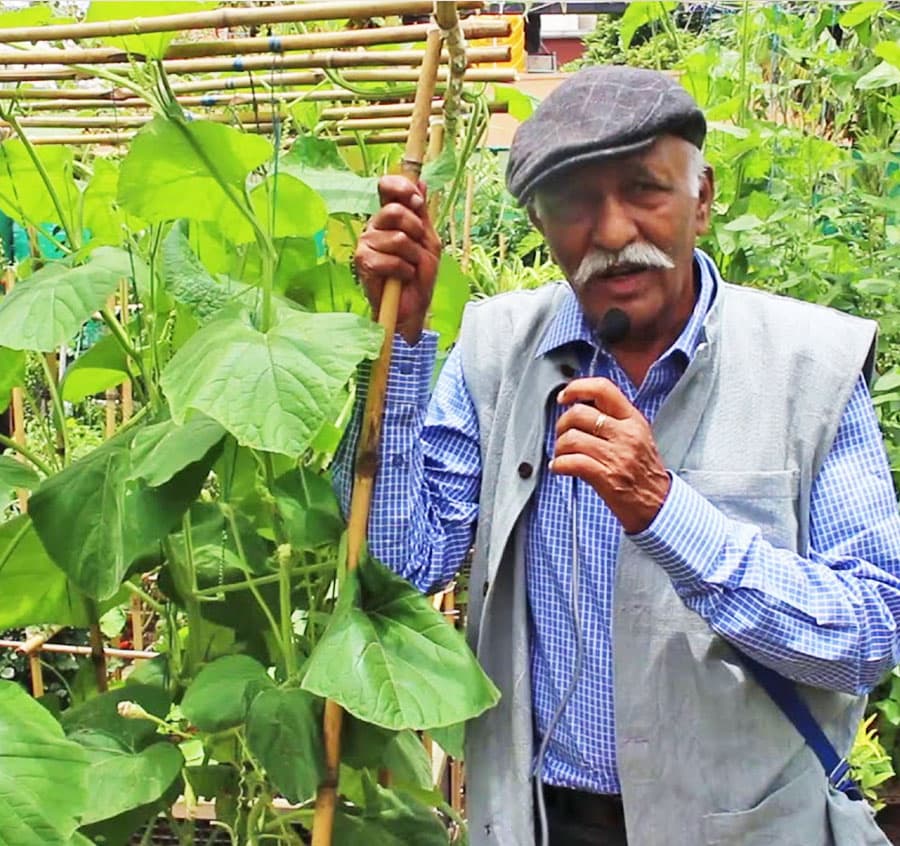 Dr. B.N.Vishwanath
Dr. B.N Viswanath chats with Homeanddecor on growing organic vegetables.
---
What inspired you to start a movement of Organic farming, especially on the terrace?
Dr. Vishwanath: It happened accidentally. I was traveling from Delhi to Bangalore in 1995, as the flight couldn't land on time due to some technical reason and flew over Bangalore city for a while… that's when I noticed immaculate terraces reflecting sunlight. That's when the thought came in my mind, why the constant rise of temperatures in Bangalore? .Even though, Bangalore is known as "Air conditioned city" because of the pleasant weather.
It disturbed me to realize that the Garden City of India, Bangalore, has become a concrete jungle day by day. I didn't bury that thought in me; I discussed with like-minded people and friends and realized that in Bangalore every one used to have an ornamental garden in the front and vegetable garden at the back side of their house. But on the contradictory now every inch of the property is used for construction as the land becomes the highly priced commodity. So I decided to bring a change by finding space that we can use effectively for cultivation. In the city, I could find space nowhere but on the terrace.
Then we studied and developed efficient terrace gardening methodology. Carrying the movement ahead a workshop was organized at Institution of Agricultural Technologists (IAT) Bangalore in 1995. It was inspiring insightful for us to see a large number of participants; they wanted to know the possibility of using the terrace for gardening. There were around 100 people (majority women) including Kannada heroin Ms. Bharathi Vishnuvardhan.
---
How much area do you require to start your little farming on the terrace?
Dr.Vishwanath: See the least BDA site is 30'X40'. Maybe there are smaller sites also. Whatever may be the size of the house we get enough space vacant on the terrace. It starts from 600 sq ft to 1200sq ft. In some cases more than 1200sq ft. Size does, doesn't matter; what matters is passion and dedication. One can do it even 400 sq ft, and in case you are staying in an apartment you can talk to the society and the entire area of the terrace can be converted into garden thus the crop can be shared.
---
What are the items, which by and large grow on the terrace?
Dr.Vishwanath: You name one plant that cannot grow on the terrace?, You can build anything and everything; it is entirely on individual choice. People become what they like and what they want. To give you an example, port trust India Canteen in Mumbai, Ms. Preethi grew coconut tree on the terrace in addition to vegetables and fruits. So nothing is impossible. You can quickly start with growing vegetables/fruits/herbs and medicinal plants etc.,
---
W hat is the preparation that you need to do before starting your terrace farming?
Dr.Vishwanath:
• The terrace has to be appropriately laid as per the norms.
• You should make sure to use a standard material/mixture.
• Waterproofing is a must.
• Implement rainwater harvesting, which is essential so that you can avoid using potable water for growing your plants.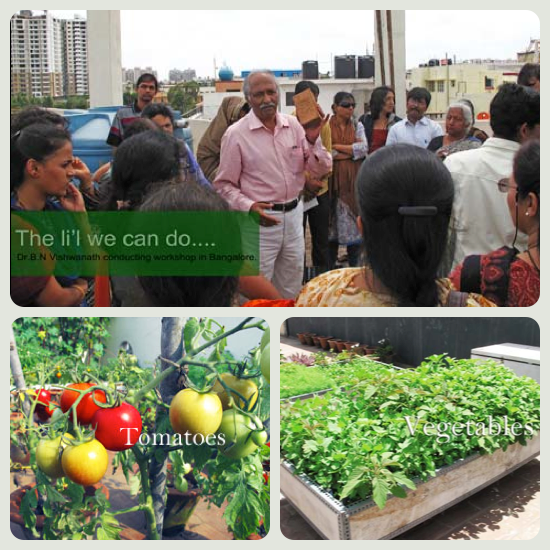 ---
Is it possible to do it on the balcony too?, What about soil selection and sunlight?
Dr.Vishwanath: Yes you can do it on the balcony too.
For the soil, we have coco peat kit which is less in weight. This particular kit is made by mixing
One part soil: 2parts raw coir powder: 4 parts coir coco peat: 2 parts wormy-compost. The package is available in Bangalore.
For the terrace farming sunlight is a must. At least 3 to 4 hours of direct sunlight is vital.
---
H ow often we need to water the plants?
Dr.Vishwanath: It depends.
In summer once in the morning and once in the evening with a bucket full of water (which is also an excellent physical exercise ;)). But in winter, one time is enough, preferably in the morning.
During Monsoon you can water depending on the rain. But you should make sure exceptional drainage for containers if not, excess water also can kill plants and too much of humidity will attract insects and diseases.
---
W here do you get the high-quality seeds from?
Dr.Vishwanath: We advocate any open-pollinated seeds for the first time. Then, individuals can process their seeds. In Bangalore, we have various agencies for seeds like Sahaja Samrudha for cereals and millets; Green Foundation for vegetable and pulses; Vanashree for all kinds of seeds.
---
S ince it's on the terrace or balcony pest control is very important- how do we do pest control?
Dr.Vishwanath: Pest and diseases are part of the environment. It works on the terrace the similar way it works in the field. So, we have to manage them effectively. The best we have is Neem mix spray. You can make this liquid mixture at home by adding 10gms of non-detergent soap or neem soap in 1-liter water and then add 10 ml Neem oil in it.Y you can use this mix to spray on the plants. There are decoctions also you can make it at home by using onion/garlic/ginger/pepper/chilies. You can use any three items out of it and spray on the plant. These particular decoctions cannot be stored. Thus you should use it without delay.
Apart from this growing chrysanthemum and Marigold plants can also reduce pests.
---
I s there any support by the ministry of agriculture to do terrace farming?
Dr.Vishwanath: As far as I know there is no support from Government agencies for city farmers. But Indian Overseas Bank financially supports us for some of our activities. However, we have heard the President Hon: Pranab Mukerji had released some grant when he was a central minister for the state to encourage urban farming. But only Kerala and Andhra Pradesh have implemented this effectively as per reports.
---
Is there any interesting incident you come across while promoting terrace farming?
Dr.Vishwanath: One incident I still remember. It's about watering the plant. One individual took watering so seriously. He used to hold an umbrella and water the plant even it used to rain heavily in Bangalore the result… he managed to spoil the entire plants.
---
Is there any coaching available to learn more about organic terrace gardening?
Dr.Vishwanath: We started workshops in the year 1995, and we have developed the syllabus and improved it continuously. We have done it in many places in Karnataka. However, as far as I know, Ms. Preeti Patil, Mumbai (Urban leaves), Mr. Maheshwar Killar in Bhuwaneshwar conducts workshops. Plans for Chennai are on.
I have written a book called "a handbook of organic terrace gardens" which is essential for the beginners.
---
If our readers have any questions and query that can, we contact?
Dr.Vishwanath: Apart from me, others also can be contacted; the list goes like this.
a) Dr.B.N.Vishwanath – 9845627217; Bangalore
b) Mr.S.Laxhminarayan – 9886396488; Bangalore
c) Dr. Rajendra Hegde – 9448629528; Bangalore
d) Ms. Preeti Patil – 9819197071; Mumbai
e) Mr.Maheshwar Killer – 9437455680, Bhuvaneshwar
---
How successful is it in Bangalore?
Dr.Vishwanath: Even though I started this in 1995, consciousness started spreading only in 2006-07, and now we have one big group online called Bangalore-terrace-gardeners@googlegroups .com, which helps entrant to clarify there. Another Facebook group called Organic Terrace Gardeners members showcase their Terrace gardens and share their experiences.
---
Do you have any plan to expand this campaign in other cities?
Dr.Vishwanath: If anyone desires, we will coach them on how to do it, as it is impossible to reach all the places personally. Intending to spread the message throughout the country we conducted a National seminar on Organic Terrace Gardens in 2009, When, last year Urban Leaves of Mumbai organized the 2nd National Seminar. In 2012 Chennai's restore is going to hold the workshop in the month of Nov-Dec.
We have lit the candle and its every individual's responsibility to spread the light. Hope it will extend across the country through which we can contribute our bit to save the earth by being organic.